NEMESIS ONE[The Most Advanced Rom Ever]
Features And Screenshots:
With superb themes, revamped UI, a brand new Launcher, Andaroid 4.2 status bar and the fastest kernel out there, it's simply what you ever wanted.
Powerful Features Powered Inside
-Removed bloatware(20MB Removed)
-Seeder included to increase entropy.
-All Features of NEMESIS HD
-Removed Heavy Load App And Other Bloats
-QuickPic [as Default Gallery]
-Pre-Installed Link2SD and CF3D!!!
Older Version: v1.1
[Updated TTLauuncher & TouchWiz]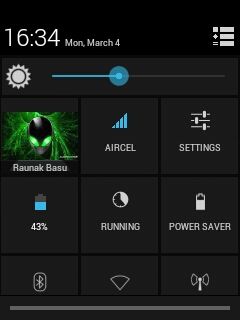 Most Black on Black Fixed
Improved Dialer,Contacts,Phone,
Improved MMS+Fixed Bugs
New App to Change the Owner Pic and Name Without Decompiling
Problem:If Status Bar Disappears Due To Any Reason
Problem:Boot Taking A Long Time
Fix: Savie Kernel Is the best kernel which have various tweak so it take time to boot! You can change kernel
Problem: Want To remove useless toggles
Fix: Change One or Two Options in QuickPanel Settings And You are done...
Problem: Brightness Slider not coming[Will Fix]
Problem:Link2SD Not working properly or FC or ROOT ISSUE
Fix: Update The SUBinaries And The App
Problem: QuickPic & Chainfire3D Force Closes...
Fix: Delete from system root |clear dalvic-cache| reinstall apps normally
Problem: Battery Bar No taking to NStatus
Fix: In Settings Battery Text Size Set to Large%